suicide prevention 🥺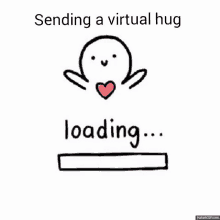 hi bb just wanted to let you know that i love you so much and that suicide is never the answer 🥺
5-4-3-2-1 technique
[answer these out loud!!]

[5 things] you can [see]
[4 things] you can [touch]
[3 things] you can [hear]
[2 things] you can [smell]
[1 thing] you can [taste]
world international hotlines 📞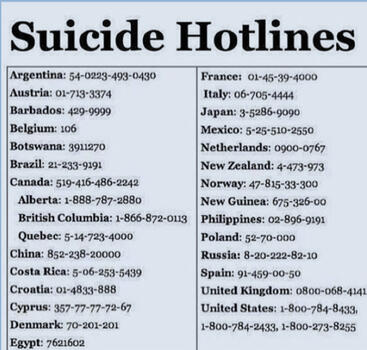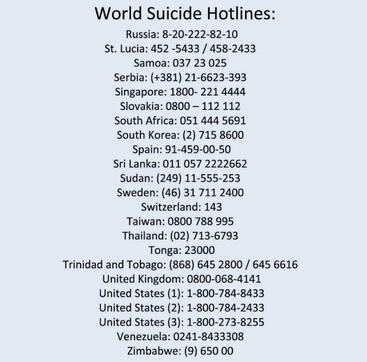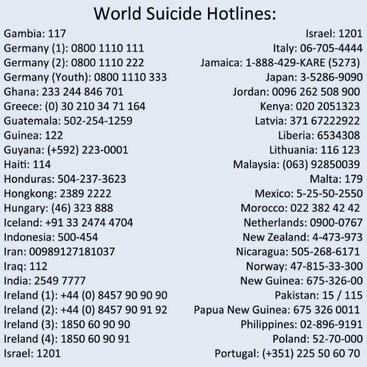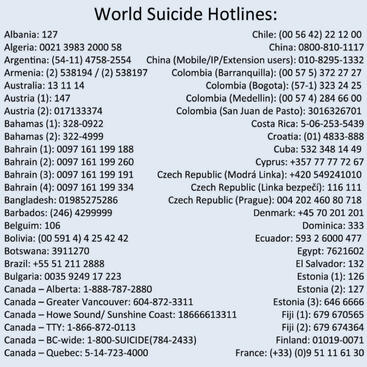 hi <3 i just wanted to let you know that i love you and im so sorry 🥺
talking to someone usually always helps 🥺 some people you can talk to:
me (@blairsreina on instagram & @clarkeloml on twitter) dm me whenever <3

the person who sent you this!

your comfort person (someone who always puts you in a better mood no matter what)

a therapist. i know i know talking to a stranger about your life seems helpless and useless, truth is its not. many people recovered from suicidal thoughts thanks to therapists
do u ever feel like you wanna talk to someone but feel like they dont know how to talk to you/can't help you?
tell them to click on the second button on my homepage or just click on the heart below ⬇️
maybe theyre not the right person? try talking to a different person <3

maybe talking to someone isn't what you need (right now). maybe try doing something else for a while like drawing, baking, watching a show (+ more activities you can do to make yourself feel better if u click on the star below ⬇️)
talking to a suicide hotline (click on the phone icon below ⬇️)
talking to someone suicidal/depressed/who's usually in a bad mood 💌
you should already be doing this but for those who dont (which is disgusting really) use. their. right. pronouns. its usually in their bios or dn's!

check in on them EVERYDAY

make sure you dont mention things that upset them unless they brought it up first, and if they did, COMFORT them

dont EVER make them feel guilty for not being in a good mood, it is NOT their fault.

when they tell you to leave them alone, make sure they're being serious. dont just leave bc they told you to sometimes people say that out of anger but really, they need you. and if they are being serious, do NOT make them feel bad or guilty for telling you to leave them alone

when someone's talking about their problems, pls do NOT try to make the situation about YOU. if you need to talk to someone click on the airplane below but when someone's talking about their problems pls dont make it about yourself/compare yourself to the situation (UNLESS its like you comparing something similar that happened to you to let them know you understand how they feel)
thing you can do to help 🥺
send them this!

talk to them, change their mind! (for on how to talk to them click on the mail icon below ⬇️)
send them something you know would make them happy (their comfort edit, invite them to a netflix party, recommend them a fic, etc)

remind them of reasons they shouldn't kill themselves (click on the heart icon below and send them the link!)
a 100 reasons why you shouldn't kill yourself 🥺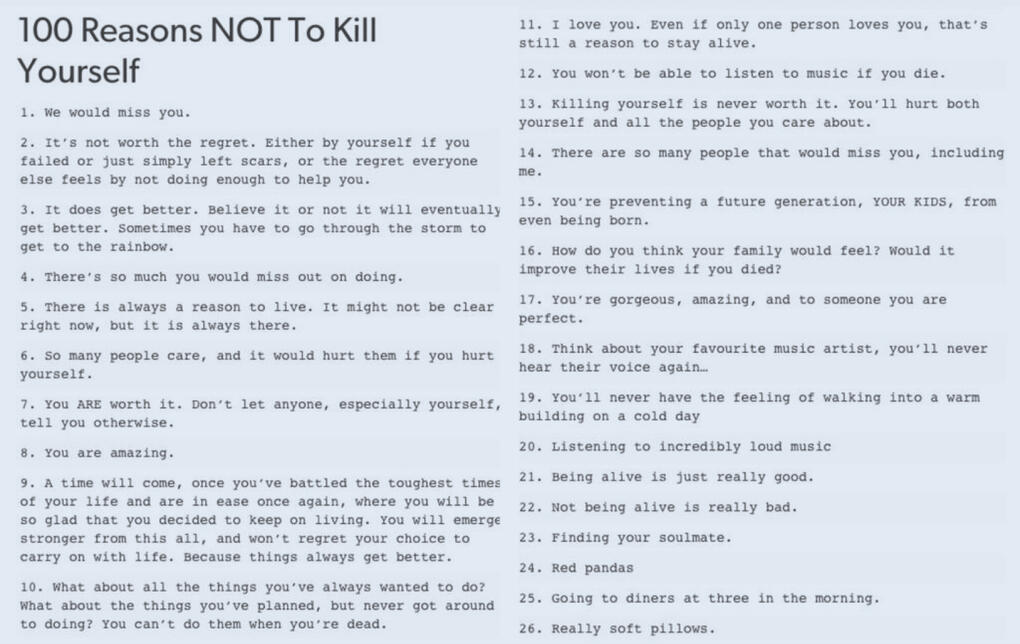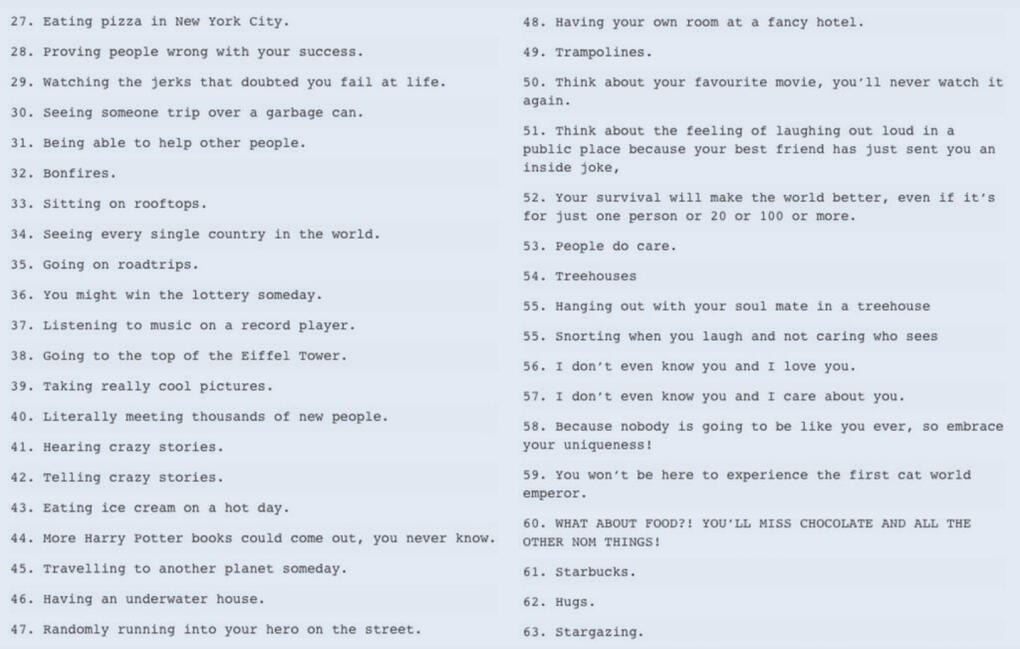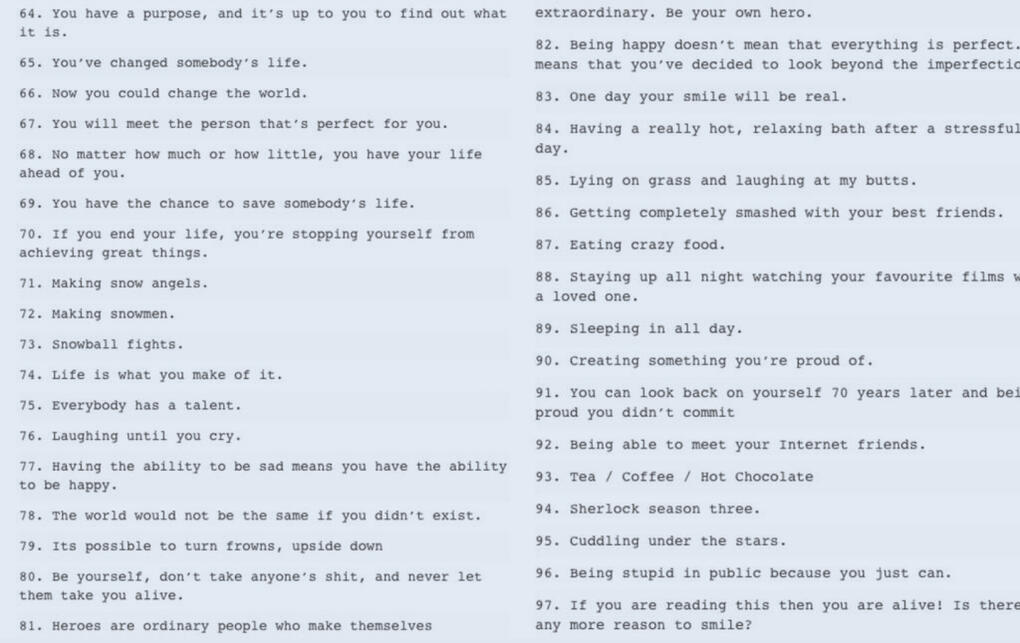 hi bb here are some stuff that can help with self harming 🥺 pls remember you're loved, you're cared for and i love you so much <333
self harm alternatives <3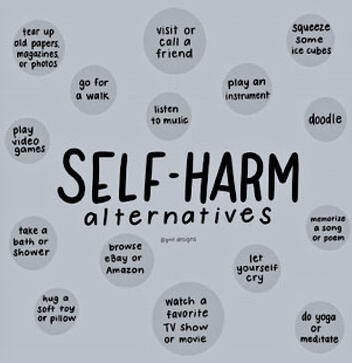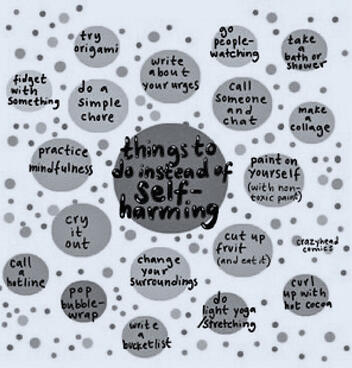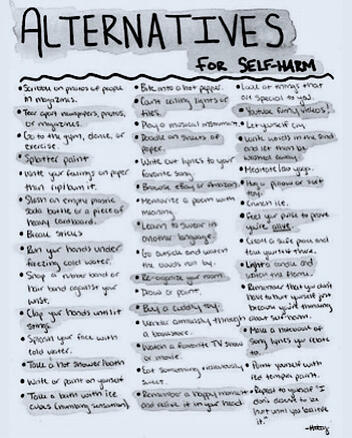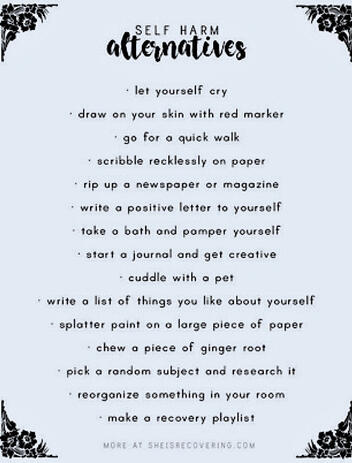 list of things that make me feel better <3
taking a walkwatching a comfort show/moviemaking a list about things u like abt urself (self confidence boost!!)reading fics/a bookwatching your fav editstalking to a friendeating ur fav foodcooking/bakingdrawing/paintingeditingpainting ur nailsdoing something productivetaking a bubble bathworking outspending time with a pet/familylistening to musicgoing shopping/online shopping